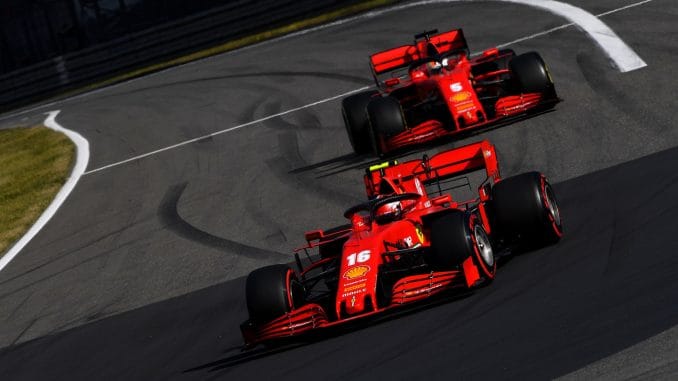 Nürburgring 11 October 2020
Scuderia Ferrari leaves Germany's Nurburgring circuit with a seven and eleventh place in the maiden Eifel Grand Prix, courtesy of Charles Leclerc and Sebastian Vettel respectively. The SF1000 was not as competitive in the race as it had been earlier in the weekend, especially with Charles who was soon struggling on the Soft tyres, so that he came in to get rid of them on lap 11.
Fightback. The early tyre change meant Leclerc was now on a two stop race, during which he pulled off several impressive passing moves on his way back up to sixth place. But with 15 laps remaining, the Safety Car came out after Lando Norris had to park his McLaren at the side of the track. That penalised the Monegasque who had no more fresh tyres and therefore decided to stay out on track, but at the restart, he had to give best to Pierre Gasly in the AlphaTauri to finish the race in seventh spot.
Vettel.  With a free choice of tyres, Vettel opted for Mediums at the start, after which he lost one place to a hard charging Antonio Giovinazzi in the Alfa Romeo. As Vettel then tried to pass the Italian, he lost control at turn 1 and had to pit having flat-spotted his tyres too badly to continue. He took on Hards on his SF1000, but they would not go the distance and so he came in for a final set of new Softs, which allowed him to fight, most notably with Kevin Magnussen, but he was unable to get into the points, having to settle for eleventh behind the aforementioned Giovinazzi.